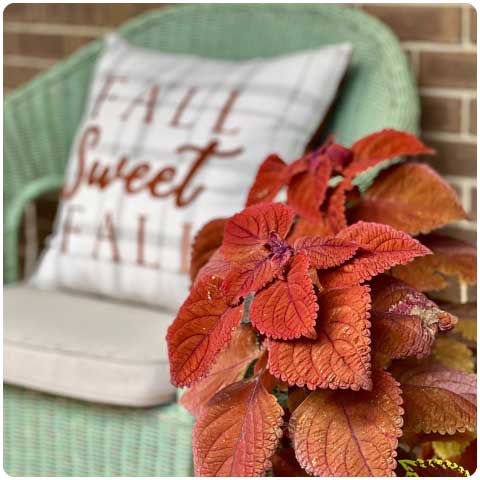 Fall yards can present some challenges, bare trees, brown lawns, and annuals that are past their prime.  Start by clearing out your landscaping; remove any annuals that are no longer appealing, trim back any overgrown foliage, pull weeds, and add new mulch so that your landscaping looks tidy.  
Keep on top of the Fall leaves,  raking them out of the lawn and sweeping them off your driveway and sidewalks.
Overcome the dreary impression of overcast days and Fall's early nights by decorating for the season.  Add pops of colour and texture to your outdoor spaces by adding pots of Mums, Asters, Heuchera or Winter Pansies. Adding pumpkins, wreaths, and other autumn decor to your front porch or yard can make your home look inviting and festive.
Make sure your furnace is on and your home is warm for any viewings or open houses.  
Stage your home with warm elements like fuzzy throws and cozy pillows. 
Set the mood with lighting by using soft lighting like lamps, and dimmer switches, to create a warm and inviting ambiance.
If your fireplace is gas make sure the glass is clean and turn the fireplace on for any showings. If you have a wood-burning fireplace, make sure it is staged with logs and tools nearby so it will tempt people to want to start a cozy fire.
Scent is one of the most powerful senses for triggering memories. Let's leverage that by including warm seasonal scents that will evoke good memories, such as pumpkin spice, cinnamon, apple pie, and the old stand-by baking bread. By adding these comforting scents your home will seem friendly and inviting.
Buyers are looking to buy homes that are move-in ready, so take care of improvements and repairs now. Home buyers are less interested in working on a home in the fall than in springtime. If the home needs new carpet, have the carpet installed. If you need to paint rooms, hire a local painter or paint the rooms yourself. When potential buyers view your home, you want them to imagine themselves moving in and relaxing. The same thing can be said for repairs. If the home needs minor repairs, make the repairs yourself or hire a professional. Note, that hiring a professional is much less expensive than an offer from a potential buyer who feels like he/she has tons of work to do.
By following these tips, you can make the most of your yard this fall and create a welcoming atmosphere for visitors.
And of course...
"CHOOSE CAROLYN" at 778-878-4687 for prompt, professional & personal service.